Nino's Bookshop
Wed, 9.3.2022 – Wed, 30.3.2022
in the rooms of the QueerMuseumVienna on the 1st floor of the Volkskundemuseum
Wed, 9.3.2022 – Thu, 30.6.2022
Intervention in the Museum Shop of the Folklore Museum SchönDing
In "Nino's Buch-Handlung", the book presents itself as an extension of the body – crossing gender boundaries – and the transformation of its knowledge into visible space. In this queer museum bookshop of a different kind, "real" books meet handmade individual pieces and performative book sculptures. The books mingle with the collection and the goods in the museum shop of the Volkskundemuseum.
Some of the handmade books come from the workshop "Wunschkörper – Körperwünsche". The workshop was based on the intention to use the book as a democratic artwork and sign for the promotion of trans: queer diversity in museum spaces. "Nino's Buch-Handlung" is a space of possibility with exhibition and performative readings.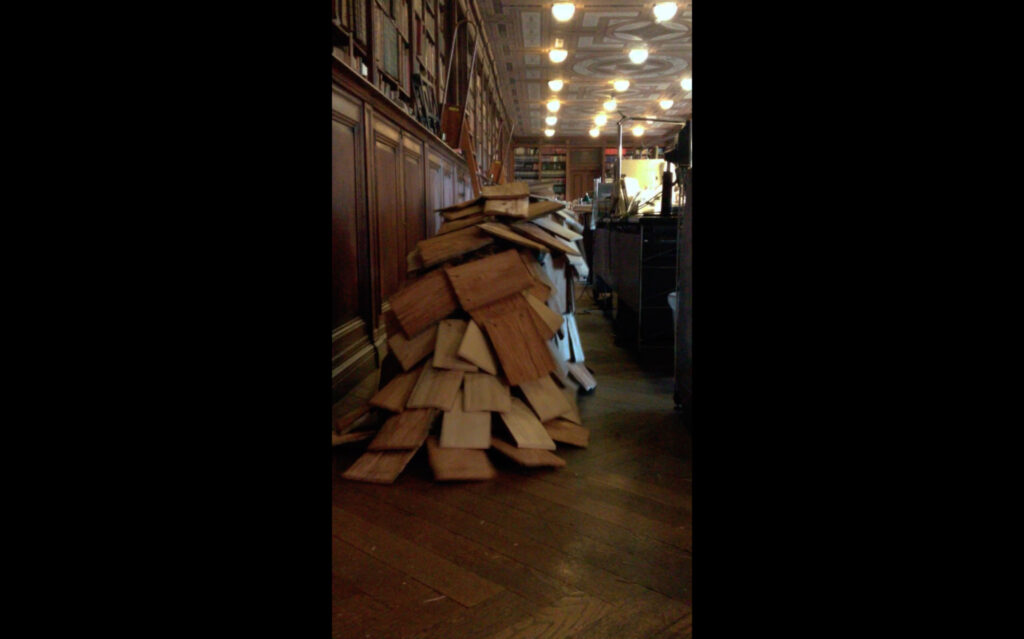 Project consisting of workshop, exhibition, performative readings.
Project management, concept, curator, organisation: Vinko Nino Jaeger
Artists in the exhibition: Persson Perry Baumgartinger, Emir Dizdarevic', Niko Gsöllhofer, Claudia Gülzow, Harry Hachmeister, Vinko Nino Jaeger, Trans* Group Kyrgyzstan – Kyrgyz Indigo, Miro Mauser
Opening | Soft Opening
Wed, 9.3.2022, 12.00 to 17.00 hrs
Duration: Thu, 10.3. until Wed, 30.3.2022

Performative reading 23.4. 2022 2.30 p.m. "The shingle animal returns and reads from his book", by and with Vinko Nino Jaeger
Vinko Nino Jaeger slips into the book sculpture and walks through the museum with it. The wooden shingles of the sculpture are pages of unwritten books that start moving, connect with the person's body and transform body knowledge. The book is in motion, like knowledge, language, the body.
The performance begins on the ground floor, in the exhibition space. The reading takes place on the first floor.
---
Reading and video performance from the book "Dropse".
By Harry Hachmeister and Claudia Gülzow
Moderation: Vinko Nino Jaeger alias das Schindeltier
Sat, 23.4.2022, 7.00 p.m.
Soft Closing
Wed, 30.3.2022, 12.00 to 17.00 hrs