Historicise yourselves!
Thu, 23.6.–Wed, 24.8.2022
Opening
Thur 23.6.2022, 5pm–8pm
Midissage:
Sa 16.7.2022, 5pm–8pm
music and drinks, performance: Haus of Rausch
Finissage:
Fri 19.8.2022, 5pm–8pm,
performance: Cat Jugravu
Virtual tour through the exhibition:
Our history is not a given. No educational curriculum provides for teaching the history of sexual minorities and trans people. Yet knowledge about the history of those who have been exposed to similar experiences of oppression and have fought for their rights is essential for a political and historical self-understanding – queer people have a right to their history.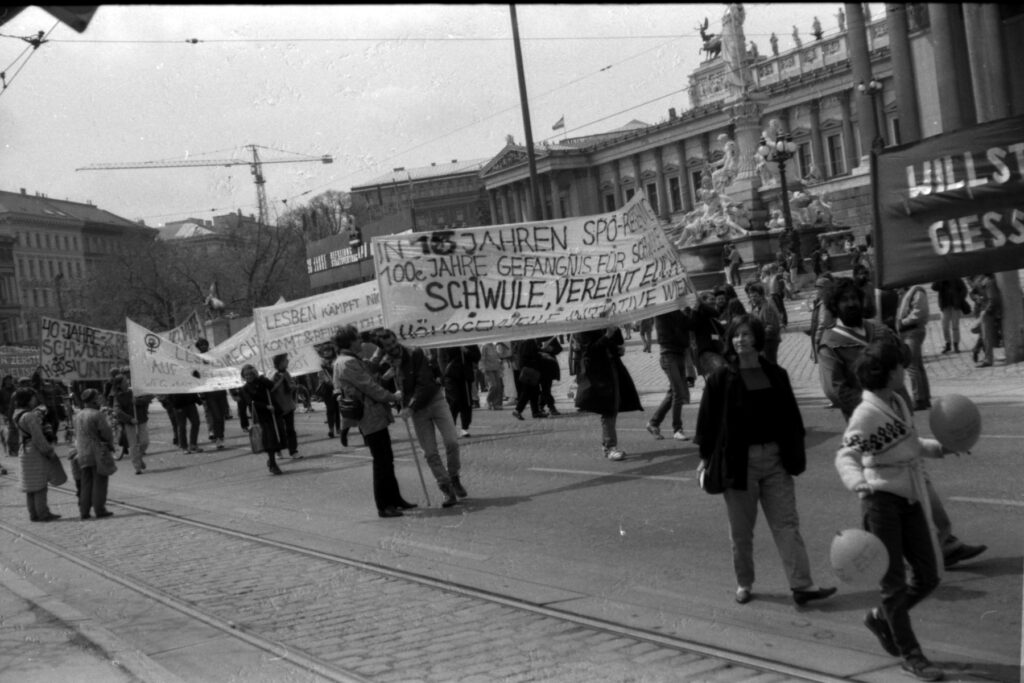 The exhibition therefore aims to show ways of resistance and emancipation and to contextualize them in different discourses. By means of the historical reappraisal of earlier fights against discrimination and exclusion, an awareness is to be created that makes it possible to name queer hostility in the present and to be able to stand up against it. Discrimination had and has many faces. So, however, does resistance against it: this can be seen in the various forms of political organizing and activism in the past. However, the rebellion for a life in dignity and security is something they all have in common. On site, online and in a brochure, we make the debates and the most important cornerstones of queer activism in Vienna accessible. The exhibition invites all those who want to deepen their knowledge and all those who deal with the topic for the first time.
Curators: Chris Steinberger, MMag. Wilhelm Binder
Collaboration: Eva Pecolt
Artistic design: Ari Ban, Carli Biller
Cover photo: First May Demo 1985; Hosi Archive
This exhibition is supported by:
Bezirk Josefstadt & WASt – Wiener Antidiskriminierungsstelle
Cooperation partner: QWIEN – Center for queer history